Instrument Restring from €15
We restring all instruments instore. When we restring your instrument we ensure that it is polished and in tune. We charge €15 for restringing an electric or acoustic guitar with standard strings. Most re-strings can be done there and then, however if the shop is particularly busy we'll ask you to call back at a time that suits you to collect your instrument.
Instrument Setup from €35
If your instrument needs more love, we can perform a full setup, including adjusting the action, perfecting intonation and full restring.
Electrical Fault from €15
We repair faulty jack inputs (soldering) to more indepth full swap outs. Any sound that shouldn't be there, we can fix!
Snapped Necks / Broken Guitars
We have an experienced guitar luthier who can repair even the saddest looking broken guitars! If you have a guitar with a broken neck or damaged body please call in for a consultation. We'd be happy to talk you through the process. Prices will depend on damage and are subject to consultation.
Instrument Refret and modifications
Our guitar luthier can perform full or partial refrets, pickup replacements, new wiring, body / neck respray, truss rod replacements, hardware replacement, and most other modifications.
Prices will vary, so please drop in for a consultation. Prices are subject to diagnostic and consultation. Price may be more if part is required.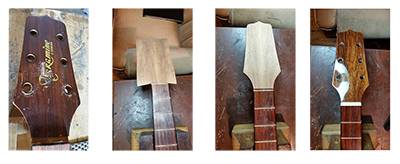 Example repair work done on headstock for Takamine guitar.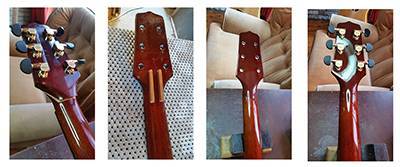 Example repair work done - broken neck / headstock completely repaired to high standard.